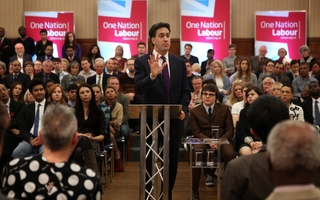 At Stoke-on-Trent Central CLP's monthly meeting a week last Friday, we heard from our Member of Parliament - Tristram Hunt - on the most vexatious of shiny new political ideas, EdM's 'One Nation'. So what is this One Nation lark all about, really? Is it code for a post-New Labour lurch to the right? Is it a cunning attempt to rebrand a more traditional form of Labourism? Or, like Dave's Big Society schtick, is it something for the wonks and commentariat to get excited about before a quiet consigning to the bin of used ideologies once the realities of power bite? Whatever members' views were the lead off and discussion was a useful effort of clarification.
In his talk, Tristram began with One Nation's conservative roots in the 'condition of England' novels the proliferated during the middle part of the 19th century, taking in such literary luminaries as Dickens and Gaitskell, and Benjamin Disraeli's own Sybil, or, The Two Nations. Their common theme was the widening social distance opened up by the industrial revolution and out of it developed One Nation Toryism, which concerned itself about healing gross inequality and poverty via intervention, paternalism, and philanthropy. It was a political philosophy of the rich feeling honour-bound and obliged to help those and the bottom of the society the first pulses of industrial capitalism was creating. Whatever its shortcomings, this once-dominant species of conservatism was killed of by Thatcher's neoliberal conservatism. She may have paid lip service to Victorian notions of morality, but behind her philosophy of personal responsibility lay an ideological project of laissez-faire. A few One Nation Tory big beasts still lumber about, but they are very much an endangered species.
Tristram thought Ed Miliband's stealing of the Tories One Nation clothes was "brilliant and brave", but what exactly does it mean? It offers a different way of thinking about capitalism to that on offer from the Tories and LibDems. Against the backdrop of a widening wealth gap, sharpening differentials between classes, and a geographical division between the South East and the rest of Britain. Not only is it an apposite starting point to address these problems, policy after policy the Coalition are showing themselves to be sectional parties. The bedroom tax, bringing the very poorest into Council Tax, hammering the low paid with changes AND cutting the 50p top rate demonstrates this better than anything else. The task for Labour is to give One Nation some policy content, and this is starting to emerge around industrial strategy and rebalancing the economy, changes to income tax, the mansion tax, and making work pay so fewer people have to top up their wages with social security. As Labour is the only properly British political party remaining, and - in the main part - the political author of the inclusive multicultural British national identity, it is uniquely positioned to talk about One Nation and the social democratic politics its promise demands.
There followed an interesting discussion. Sister P was worried about the disparity that has opened up over the last 30 years, especially among the affluent who have imbibed a huge sense of entitlement. They, aided and abetted by the press, has allowed them to think they're uniquely deserving. Brother A welcomed the One Nation idea, thinking it was a clever counterposition to the Coalition's two nations approach. He also thought this rebranding was more ambitious and more in tune with people's aspirations than New Labour, which he believed secured 'discipline' at the expense of emptying out the party - and indeed welcomed EdM's public attempts to put red (and white, and blue) water between his leadership and those of his predecessors. He went on to say that One Nation is in the interests of our class - the working class. Taking away from the rich and redistributing to the poor is the only way of realising One Nation. Brother G, a recent returnee to the Labour Party after leaving 20 years ago, suggested that One Nation is as yet quite fuzzy. We still don't know what it's about - we also need to define what its values are.
Responding to this first round of discussion, Tristram argued that New Labour was about combining together economic efficiency with the delivery of social justice. The challenge of One Nation is to translate it from abstract discussion into the language that goes down well on doorsteps. For this to work, you need a philosophy, a leader that embodies that idea, and a succinct explanation. In this sense, New Labour proved particularly effective - especially in the swing seats. The advantage One Nation has is that it can speak to voters that may otherwise vote Tory while saying the sorts of things Labour voters expect.
In an additional round of discussion, sister M recalled going on the doorsteps in 2008 shortly after Brown scrapped the 10p tax. But now she felt it may be an idea that has passed its used by date considering the LibDems' determination to raise tax thresholds. Should Labour look at extending that in the future? Brother A mentioned 'predistribution' and the place in occupies in the One Nation vision, and brother S talked about workplace rights and the expansion of zero hour contracts in the NHS, and the subsidising of low pay by the taxpayer through tax credits and other social security supports.
Replying, Tristram offered a glimpse of the two camps at the top concerning wages. Should Labour favour a flat living wage, or a better minimum wage topped up with tax credits? While the first should be something to aim for, the problem of legislating for such a wage is how to mitigate the impact on small businesses? He also accepted S's arguments and noted the link between feeling secure in employment, consumer confidence, and the taking out of mortgages for new houses. But on the flip side the historically low productivity vs continental competitors has to be looked at (Tristram was at pains to deny this was because British workers were "lazy"). This requires a vocational strategy to match the demand for skills with the supply of necessary training rather than leaving it to markets. However, he did sound a note of caution - German capitalism is very productive, but its division of labour is almost caste-like and it is very difficult to move between skilled jobs.
By way of summary, he suggested that Labour doesn't have the answers yet but the process overseen by Jon Cruddas is starting to get us there. He's asking the right questions about the sorts of policies that can resonate between now and the general election, and it's EdM's challenge to translate those policy conversations into an easy-to-sell vision for Britain.