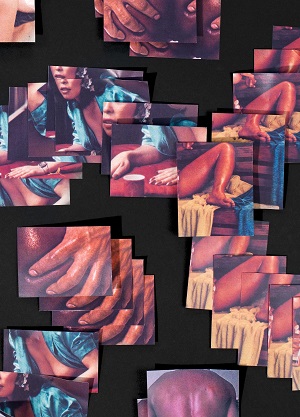 While we're on the subject ... can porn be considered an ideology? I ask because I've become aware of this site,
Make Love, Not Porn
(it is safe(ish) for work). It's still at the early build stage, but the idea is simple. Visitors are invited to leave comments juxtaposing 'porn world' sex to real world sex. So for example, in porn world "men love coming on women's faces, and women love having men come on their faces", whereas in the real world "some women like this, some don't. Some guys like to do this, some guys don't. It's entirely up to personal choice". Sounds like a useful project that might tackle some of the myths propagated by porn.
But seeing as it promises an idealised sexual experience (of sorts), is there a case for considering porn as an ideology? In Marxism, ideology is typically thought of in two ways. Firstly as a set of ideas that offer a partial and distorted view of reality, glossing over the power relations and processes that underpin capitalism (this is why you should take any self-described socialist who talks about 'Marxist ideology' for a pseud). Secondly, ideology is a lived relation denoting all the ideas and discourses that mediate our relationships to the wider social world - an understanding elaborated on (but not without its own problems) in Louis Althusser's
Ideology and Ideological State Apparatuses
. These two functions or forms of ideology are not mutually exclusive. For example, the world view of seriously religious folk rejects scientific and other secular means of interpreting social life in favour of the theologies of whatever doctrine they subscribe to. But nevertheless, they live this ideology - it guides their relationships with the wider world.
Therefore in the Marxist sense, is porn an ideology? On immediate appearances it would seem not to be. After all, it's just people doing sex acts in front of a camera. And that's all there is to it, innit? True, while some performers and commentators such as
Ovidie
,
Nina Hartley
, and
Susannah Breslin
have written extensively on porn and have provided valuable insights into the commodification of sex, their ideas do not structure the mass production and consumption of porn. Very few people settle down with a copy of the
Porn Manifesto
before catching up with Ron Jeremy's latest adventures. What goes into product and how it is shot is the preserve of the studios who churn it out.
If we grant that porn in and of itself is not an ideology, it definitely has ideological effects. You don't have to be a conservative or feminist opponent to realise sex in porn is profoundly reductive and objectifying, reducing women to their orifices and breasts and men to their cocks. Sex is entirely mechanical and genital-centric and is focused around the climax of the male performer, which usually entails coming on his partner's face or another part of her body. And this is the norm. Now, I do not subscribe to the discredited hypodermic model of media influence in which an audience passively watches something and then acts it out in real life. But it is clear the staged, "artificial" sex in porn is impacting on contemporary heterosexual masculinities and femininities in significant ways.
In the case of masculinity, the ubiquity of porn has centered the economy of desire around male pleasure. For instance, back in my pre-internet school days me and a mixed group of my mates had a stash of magazines we kept in the ruins of a half-demolished local pottery (we found most of these magazines - the route home from school was a dumping ground for discarded copies of
Electric Blue
,
Men Only
,
Fiesta
etc. for some reason). And, if memory serves, alongside gynaecological spreads of Mary from Barnstaple, the smutty stories they carried celebrated a masculinity that was affirmed in not only screwing as many women as possible, but making sure they climaxed too. Perhaps top shelf publications are still the same today, but the easy availability of porn on the internet has effectively rendered them a niche pursuit. Chances are for adolescent and young men, for whom porn is likely to be their first experience of sex and in the absence of other information about sexual behaviour, the porn "model" can condition and influence their approaches to and expectations of sex.
This is to say nothing about how porn frames women for men. While female porn stars can hardly be said to be passive, their performance is organised around bringing their male co-star(s) to climax and/or by extension, do so for the pleasure of the viewer. They are constructed as objects of heterosexual male desire and serve only to satisfy that - a point reinforced by the titles the studios give their output. This positioning of women has radiated out from porn, informing the aesthetics and preoccupations of low-brow lads' mags like
Zoo
and
Nuts
to music videos, to driving the new acceptability of so-called gentlemen's clubs (of course, the objectification of women beyond porn is nothing new but there is more of an overt sexual component to it than was the case 10-20 years ago).
The messages porn sends out for women aren't the most progressive either. Quite apart from extending its particular take on the hegemonic feminine ideal to every nook and cranny of women's bodies (see
here
and
here
), it prescribes a particular performance of female sexuality. This suggests that a real woman should not only be happy to accommodate her sexual partner in every way, but would find pleasure in doing so too. Furthermore, this is a sexuality that is always up for it, that can be lit up like a beacon at any time. And ultimately, if she is not satisfied she is at least gratified in pleasuring her man. Her own sexual pleasure is secondary and irrelevant.
Therefore, at least where the Marxist approach to ideology is concerned, porn can legitimately be considered an ideology. It offers a simplistic and distorted view of sex and sexual acts that celebrates and reinforces an arbitrary inequality between male and female performers. And because porn is everywhere, feeding and in turn feeding off mainstream publishing, fashion, music and film, it has colonised contemporary masculinity and femininity in subtle and non-too-subtle ways, colouring and conditioning views of what sex is and how it should be done. In other words, porn is both a distortion of and a "lived relation" to the world, drawing from, plugging into and reinforcing existing gendered relations. But what, if anything, can be done?