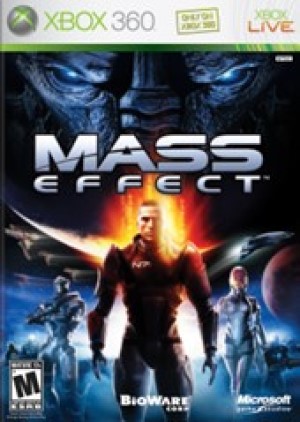 Since becoming a X-Box widower I've seen some contemporary games up close. It's all very strange for me as I haven't played any game at length apart from
Civ III
for about 10 years. And things have moved on from the PlayStation haven't they? I can remember marveling at the scratchy digitised speech and four colours onscreen my beloved ZX Spectrum struggled to creak out of its chip set. And now? The advances are mind-blowing. But anyway, one of the games CBC has enjoyed playing is Bioware's 2007 masterpiece
Mass Effect
. This science fiction role playing game casts you as a gun-toting space warrior out to save the galaxy.

As a role-playing game
Mass Effect
comes with a mythos every bit as complete as
Star Trek
or a Games Workshop offering. Set in 2183 the
Human Systems Alliance
is a newcomer to the community of galactic civilisations, known collectively as Citadel Space after the alien
megastructure
that is the seat of interstellar governance. Being something of an upstart species, there is tension between humanity and the
Turians
- who fought a very brief war after a bungled first contact. And there's some generalised resentment among humans toward the rest of the Citadel races for keeping us on a leash and not according us full member status on the community's governing council. However, when Saren, a Turian
spectre
turns rogue the council are forced to raise
Shepard
(you) to spectre status and go after him. During the course of the pursuit it becomes clear Saren is involved in a plot that could wipe out all organic life in the galaxy. It falls to Shepard to stop him and his allies.

Mass Effect
was extremely well-received by the gaming press and it's not difficult to see why. With game mechanics that owe more to table top games than its console-based brethren, a
morality system
that effects plot outcomes in the game, satisfying combat sequences with very big guns and an immersive story line it is, as one reviewer noted, like playing a novel. It is so good that it can be entertaining to watch as well. The BC household is definitely looking forward to the release of
the sequel
early next year.

Some reviewers have noted comments on contemporary issues within the game. One of your antagonists is a species called the
Geth
- a race of mechanoids who rebelled against their creators, the
Quarians
. On top of this the game's deadly threat comes from the
Reapers
, a race of ancient psychotic killing machines bent on galactic-level genocide. Through these dangerous enemies
Mass Effect
is able to tick the artificial intelligence anxiety box. And there is racism too. Human xenophobes are not keen on alien races and there is a growing chauvinist movement back on Earth. It's up to the player whether one endorses these sentiments in their dealings with other races or challenge the casual racists they encounter.

However the science fiction is pretty derivative. Ships can traverse the galaxy in a blink of an eye thanks to
mass relays
(i.e. jump gates), and a major plot point involves the fate of a prehistoric but extinct spacefaring race, the
Protheans
.

Another (depressing) derivative feature carried over from the likes of
Star Trek
and
Babylon 5
is the preponderance of humanoid species. This is the most obvious place where ideology starts rearing its ugly head. It signifies a poverty of imagination - after all, while TV science fiction has real physical limits on what aliens can look like that isn't the case in video games. There is zero appreciation of scientific speculation on extra-terrestrial life. The alien races are also manifestations of particular human traits in much the same way the aliens of
Star Trek
are. The Taurians are conscientious public servants. The
Salarians
are technological fetishists. All
Hanar
are devout. The
Krogan
are impulsive and ultra-violent.

By far the most questionable set of essentialist aliens are the
Asari
. A lot of science fiction has a problematic relationship with gender and
Mass Effect
is no different. The Asari are a race of blue-skinned asexual humanoids, but just so happen to have the hegemonic hour glass-perfect bodies of human women. Their culture is communicative and based on cooperation and consensus, not competition. They have an ability to empathise with others and are exceedingly spiritual beings. I don't know what concerns me more - that a mass media artifact like
Mass Effect
can get away with portraying women in a one-dimensional fashion or that those who conceived the Asari saw it fit to brand hegemonic femininity
alien
. It's also worth noting that apart from humans, all the dozens of characters you encounter from the other races (apart from the
Rachni queen
and your Quarian squad member,
Tali'Zorah
) are male. And yet it's only the femininity of the Asari that elicits comment.

Then there is the persistence of capitalism.
Mass Effect
takes the ideology of capitalism as natural and eternal to absurd extremes. Not only is the Human Systems Alliance a science fiction extension of what we have today replete with rogue corporations (
Blade Runner, Alien
), crime syndicates and mercenaries, but every alien society is organised around production for profit too. This only serves to feed back into the natural/eternal assumptions basic to all capitalist ideology.

A final couple of points refer to the view of history underpinning the game mythos.
Mass Effect
is as far from
Civ III
as any other action-based role playing video game, but both are premised on struggle, albeit struggle between essentialised and homogenous civilisations. In
Civ
they were human, here they are different species. But in both cases they neatly map onto the tropes deployed in nationalist and chauvinist thinking. Second this is combined with our old discredited 19th century friend - the Great Man view of history. Commander Shepard is one of these great wo/men and on your shoulders alone rests the fate of the entire galaxy. Everyone else is a no mark buffeted by your historical wake. This is a Randian world where social complexity scarcely gets a look in and the cult of individuality is fetishised.

That said, without all this wouldn't video games be boring?

One last point. The left has no problem reviewing films, TV shows and books to draw out the ideologies curled up inside them, but when was the last time you saw a video game get a critical review in one of our publications? As ever I fear the left have been slow off the mark. Video games are now bigger than the film industry. Famously in its first week
Grand Theft Auto IV
grossed over $500 million. Every day millions of people play games with crude ideological excrescences that wouldn't appear so unabashed in film or TV. The odd scathing polemic in say
Socialism Today
wouldn't have the global games industry quaking in its boots, but it could help us be more alive to ways some of the baser capitalist ideologies continue to be transmitted.