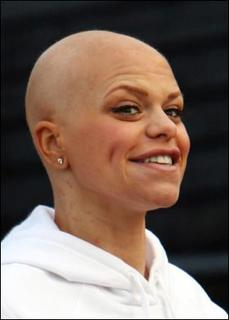 It is difficult not to be moved by the sad demise of Jade Goody, who succumbed to her cancer in the early hours of this morning. Few of us really knew Jade apart from her media persona but even so there was definitely something about her that appealed to millions. There were no airs or graces. She stood before the media and the public warts and all, assiduously inviting everyone into her private life and getting rich on the back of it. In this sense, the starring role she assumed in 2002's
Big Brother Three
has never ended. She began her celebrity life as it ended: in a goldfish bowl.

Since her very long goodbye began, Jade's celebrity started the ascent to media demi-godhood. Most distastefully we saw Jade's "final words" and glossy obituary
published
several days before her death. And now the media will be clamouring to position her as a saintly mother figure - a working class "people's princess" if you will.

This is of course hypocrisy of the highest order. The
News of the World
are leading the pack with sycophantic tributes and laurels to "brave Jade". But this along with its
Sun
stable mate were at the forefront of some of the most disgusting press ever levelled at a celebrity. Who can forget their "vote out the pig" campaign while she was ensconced in BB3? Their superior and condescending attacks over the Shilpa Shetty
episode
? The very press that made Jade delightfully put the boot in when and wherever it could. Their mountains of tribute and praise over the coming days will "forget" all this.

Jade was something more than a run of the mill tabloid hate figure. Her tough working class upbringing, lack of education and "proper" social mores stirred up the class prejudices of the
Mail
-
Express
-
Telegraph
bigot brigade and Guardianista left-liberals alike. Coupled with her z-list status as a "lower class" celebrity famous for being famous (like
Kerry Katona
and
Katie Price/Jordan
), Jade's persona symbolised all the cliches the elite have about the dangerous class. She was symptomatic of the broken society for conservatives. Jade epitomised the non-PC "barbarism" of the white working class for swathes of the liberal-left. The "race row" of 2007's
Celebrity Big Brother
witnessed both sections of elite opinion uniting to give vent to their class prejudices. It was a frenzy of condemnation some on the left shamefully felt compelled to join.

Jade's career distils the trajectory celebrity has taken since the 1980s. As I've noted
before
, the cultural developments of that decade laid the foundation for an altered perception of celebrity. Our would-be immortals were by degrees knocked off their pedestals and shown up by the media as flawed human beings like the rest of us. This demystification of celebrity aura has unfolded in bizarre and increasingly perverse ways. The normalisation of celebrity figures has paradoxically created an aura that makes celebrity even more seductive. Living life in the public eye holds the promise of effortless fame and wealth, provided one has no qualms of bearing all about bedroom malfunctions and drugs 'n' booze hells when required.
It is also a life more attainable than ever before. The proliferation of reality shows and the internet have "democratised" celebrity - anyone, whether they have talent or not - can make it. All that's required is being in the right place at the right time. But this is an extremely precarious world. Marx's observation that the petit bourgeoisie live in constant fear of being cast back down by big capital is an apposite anticipation of celebrity status anxiety. The truth is celebrity and celebrities are nothing more than commodities. The demystification of celebrity has seen them move from valued figures to mutually interchangeable and utterly disposable objects buffeted by a capricious media. The gap left in the
OK!
/
Heat
firmament by Jade's passing will be filled by Jade's surviving family and the
Cheryl Coles
and
Andy Scott-Lees
of this world. So it is with any celebrity.

Nevertheless Jade proved to be a skilled and astute player of the celebrity game. Her self-flagellation and public penance after BB7 showed she recognised the shaky foundations of her fame. And we knew she knew this, as news of her cancer was greeted in some quarters as a cynical move to rebuild her career demonstrates.

Jade's death is very sad and all my sympathy goes to her family and friends. But as her personality fades from popular consciousness and other celebrities fill her place, Jade's claim to celebrity immortality will be ever more predicated on the nature of her death. Whatever one thinks of Jade's conduct in her final months it is this very public dying that is uniquely hers. Celebrities die, but she's the first who has done it with Living TV at her bed side. And sadly, given the nature of contemporary celebrity, she will not be the last.

Also at
Socialist Unity
.