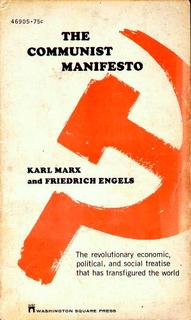 It's been some years since I last stood in front of a class, but times are hard and the funding's long since dried up, so needs must. But what better course for a Marxist to teach than an introduction to political sociology that also requires the students read and engage with a bit of Marx? This is how I've spent a few hours these last couple of Thursdays. For my classes I set the
Communist Manifesto
as their reading, and much to my delight, most of them appeared to have read it. So, how did it go?
Quite well actually. I always begin a session based on a reading with how the students got on with the text and pleasingly, it elicited a couple of very strong reactions from a
LibDem
and a
Tory
, respectively. The boy in the yellow corner objected to its general political thrust while the woman in the blue corner thundered about Marx's critique of charity, and tried to claim that because the
Manifesto
is for the workers it is "elitist". But there were a few positive responses as well - a dangerous subversive from
Socialist Students
praised it for predicting capitalism's line of march when it remained very much in its infancy, while another went on to praise China(!)
Below are the questions around which most of the discussion revolved:
Does class still matter? How does Marx define it? Is there a struggle between the classes? What is "special" about the working class?
Why, for Marx, is capitalism the best and the worst thing to have happened to the human race?
"The executive of the modern state is but a committee for managing the common affairs of the whole bourgeoisie". What does Marx mean by this? Do you agree?
Is the spectre of communism abroad once again?
What did Marx mean by the abolition of private property? Do communists want to nationalise your telly?
The discussions also ranged over the materialist conception of history, the theory of surplus labour and surplus value, social mobility, whether we're all middle class now and the class location of David Beckham and Wayne Rooney.
Next time it will be
Max Weber
and the origins of capitalism. That's a recipe for a less passionate and wide-ranging a lesson but still, it could prove to be interesting.