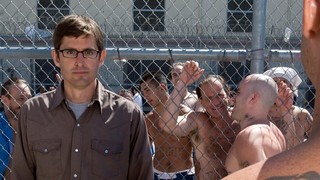 At 2,193,798 the USA has the highest prison population in the world. Higher even than the 1,548,498 languishing in Chinese jails. Even if you look at
imprisonment rates
per 100,000, the USA stands at 737 as compared to an increasingly authoritarian Russia, whose figure is 615. Land of the Free it
ain't
.
Perhaps first among the USA's archipelago of correctional institutions is
San Quentin State Prison
in California. It has been home to celebrity serial-killer (and
celebrity
serial-killer), Charles Manson; Wallace Fard Muhammed, the
Nation of Islam
founder; and Sirhan Sirhan, the assassin of Robert Kennedy. It incarcerates some of America's worst criminals and has a pretty forbidding reputation, further "enhanced" by the presence of California's death row.
San Quentin is a sprawling and overcrowded site. Founded in 1852, its current inmate capacity is designed to hold 3,317 prisoners while the current population stands at 5,222. It employs 1,718 staff and sucks in $210 million a year. Californian state spending on education is lower than money allocated to its complex of prisons. Inmates tend to be divided among
five gangs
that operate roughly along racial lines, which can periodically erupt in outbursts of collective violence. For example, 45 were injured in a four-block
confrontation
between white and latino gangs in August, 2005. This is not untypical. Overall, the situation is exacerbated by the huge growth in numbers passing through the penal system.
Official statistics
record an increase from 59,484 in 1986 to 2006's 172,528! This can only fuel institutional and intra-inmate violence in the system.
Without a shadow of a doubt, it is one of the grimmest places within the borders of the United States, and that makes it ideal fodder for a Louis Theroux documentary. What is different about this programme is the absence of the doe-eyed send up treatment meted out to the likes of the loathsome
Phelps clan
and UFO cultists. It is serious and sombre, and by striking this mood the audience is able to peer over San Quentin's walls and get a beginning of an understanding of what it must be like to live within them.
Louis spends some time with the white separatist/supremacist Barbarian Brotherhood and they quickly introduce him to the rules of the game, which is simple: no contact with other races on pain of a severe beating. In return, according to 'Playboy' Nolan (a former gang member segregated for his own protection), the gang acts as an extended family, providing food, security, and drugs. In return they expect loyalty and obedience, and woe betide anyone who 'resigns'. Playboy's aware that leaving his gang has earned him a death sentence and one that will follow him beyond the jail. Another inmate kept in the so-called Alpine section (protective custody) tells Louis how he dropped out because he refused an order to stab his cellmate ... for borrowing a set of dominoes from a black prisoner. However, Louis believes gang culture is strong inside because its a way of creating camaraderie in a system designed to atomise its inmates. But its more than just that. Playboy tells us when he grew up on the streets the gang provided the acceptance and love denied him through more conventional means. For men in his position, the gang provides a reassuring presence in the traumatic transition from street to jail. Gang loyalty and culture is strengthened as a result.
Louis also speaks to Debra, a trans inmate due for release during filming. Talking to her and her partner Rob, they tell him how trans prisoners have become objects of lust in the absence of female company, and are much prized as cellmates. Chris, an openly gay prisoner, tells Louis how being out actually helps him to survive. By plucking his eyebrows, wearing a bit of make up, and acting effeminately he (and others like him) are seen as 'girls' by the general population of his wing and are more likely to avoid the threats facing straight inmates. Also, being in the closet and then getting found out is far more dangerous than being open from the start.
As a Louis Theroux show, it wouldn't be the done thing if he didn't seek out the most dangerous of the dangerous. He interviews David Silver, a man who will serve 521 years plus 11 life sentences(!) for the violent home invasion robberies he carried out. Unlike many, his crimes were not driven by drug dependency. He'd been in juvenile facilities from 11 until he reached 20, and was behind bars again when he was 22. Time inside meant his career prospects were always going to be a McJob life of low wages and long hours. So he turned to crime as a short cut to the lifestyle enjoyed by average Americans. He does accept responsibility for what he did and acknowledged he did know better. But now he's resigned himself to life behind bars, a life where the stress of a keeping a job, insecurity, and staying up to date with the rent don't apply. If an inmate can narrow their horizons and not think about the company of women, freedom of movement, etc, they can cease to be important and life can be pleasant enough.
Louis's interactions with the guards were quite interesting. Most seemed quite friendly and comfortable with the prisoners - it's hard to say whether this was a Potemkin-like display for the benefit of the BBC. If it was, Louis was certainly taken in by their "genuine warmth". One guard admitted how you can't help but build friendly rapport with people incarcerated for years, but it would nevertheless be wise to avoid friendship. Another spoke almost affectionately of Playboy, who he knew he would see again after his release because "they cannot function on the streets". He also believed inmates didn't want to learn skills they can use for the outside world, because prison provides free bed and board. "They're a somebody in prison, but a nobody on the streets" he concluded.
Louis Theroux should be thanked for exposing this harsh truth about institutionalisation and re-offending. When people are locked up and the key is thrown away, what possible incentive is there for prisoners to accept mainstream norms and abide by correctional rules? And what effect is surviving in such an environment likely to have on those who are released? Well,
official statistics
for California show 23,849 former inmates were readmitted to prison in 1986, and by 2006 this had shot up to 90,500. Prison as punishment in California's case is a marked failure.
It is silly to pretend crime will disappear with the building of socialism. In the context of very different social relationships, characterised by a progressive overcoming exploitation and alienation by empowering masses and masses of people, the material basis of crime will change. Crimes of property are likely to decline, as are numbers of violent offences, but there will remain the need to incarcerate those who pose a danger to the rest of the population. Peering into my rouge-tinted crystal ball, in a society that encourages human potential, prison life will be about rehabilitation. Where this is not possible, prisoners will be humanely treated and allowed to develop their potentialities as much as their situation allows. Now, such a vision of the socialist prison may seem hopelessly utopian from today's standpoint, but it is founded on principles that can be used for policy generation now. Chief among them would be measures aimed at reducing institutional violence and negating brutalisation, and wider policies attacking the material roots of crime. But all this is alien to the prevailing orthodoxy in Britain and the USA, where rehabilitation programmes are under attack and more prisons are being built. The hang 'em and flog 'em brigade are very much part of the problem. They have no solutions.