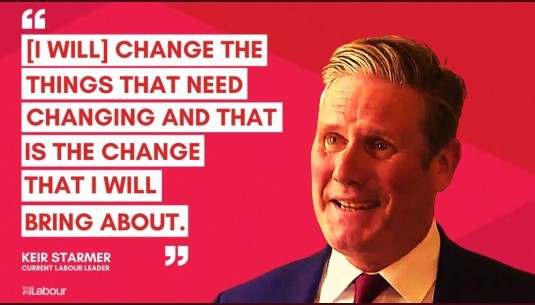 The Tories should be having a rough time. Their recent reshuffle compounds the calamities forced on us. They have presided over the worst foreign policy disasters in British political history twice in as many years. The triple lock is ending, National Insurance is going up for employees, and millions of working families are about to lose a £1,000/year. Shops are experiencing food shortages, the idiotic Tory Brexit deal has stoked the fires of a militant Unionism in the throes of decline, and now gas prices are threatening the production of meatstuffs and menacing Christmas into the bargain. We're at the reverse Midas touch stage of this Tory government, and one a competent opposition would have no problem carving up while serving as the repository for disaffection from all quarters. Sadly, we have an opposition that is missing in action.

Never have so many goals been missed or opportunities passed up by a Labour leader. In his person, Keir Starmer condenses all the place-seeking and petty-mindedness of the Labour right - except he's blissfully unaware how he's filleting his position like a kipper. Consider the latest wheeze, now confirmed to the BBC and given in writing in conference documents: the electoral college is returning. A fever dream of the Labour right just two years ago, the prospect of its return is real. It's entirely possible Starmer could end Labour's short experiment with elementary bourgeois democratic norms and retreat to the managed democracy his lackeys ostentatiously find objectionable in Russia, Belarus, Hungary, etc. Returning to the system that last ran in 2010, the proposals award each MP the equivalent of 2,000 member votes and even more affiliated trade unionist votes. Simply put, no defence of this exists on formal grounds, so out come the bullshit arguments.

The first is MPs are more representative of the population as a whole than the membership. This is obviously untrue, whichever way you look at it. Our parliamentarians can look forward to the basic tidy annual sum of £82k, easily putting them in the top 20% of earners. This leaves out perks, corporate comps, directorships and lucrative sidelines that have the fortuitous tendency to stop at their station. There is a widening gulf between them and the consequences of the policies they debate in the Commons. And while there are good sorts who demonstrate empathy because they've been there, or they have good politics, most do not feel an emotional attachment to the suffering governments inflict. Their position insulates them. Social being conditions consciousness and therefore politics, which is why it remains common to still find on the Labour benches fans of scrounger rhetoric, true believers in unemployment being a result of personal failings, and joblessness the consequence of "cultures of worklessness" - not lack of jobs. From here flow other sins, such as mistaking one's mediocrity for profundity, how the public champ at the bit for military intervention overseas, and that nothing has changed in fundamentals since 1997.

Inhabiting this rarefied space breathes life into one popular self-serving argument - at least popular among the Labour right. When they were temporarily out of office and out of sorts in the Corbyn interlude, every tweet or Facebook post mildly critical of the scabby behaviour of right wing Labour MPs was hysterically denounced as abuse, bullying, misogyny, and antisemitism. There was litte concern their mountains from molehills act would affect Labour's chances, because our self-styled election-winning specialists had no interest in winning an election. Quite the opposite. Now they're back in the driving seat purging the left and stitching up party democracy with an enthusiasm that would make the crudest Kremlin fixer blush, bloodletting is not only good when they're wielding the axe; the public love to see it too. At least according to them.

For Starmer, to his mind and those advising him choosing to go into conference promising a showdown with the left and the trade unions is Blairite colour-by-numbers. What better way to show the media and anyone watching that not only is he tuss enough to be a proper leader, but if circumstances demand he'd happily defend the bourgeois interest against the people his party was set up to represent. But this is a gamble, and could easily shade into overreach. With Corbyn sidelined, recent accidentally-on-purpose difficulties kept off the front pages, the right wing tilt to opposition causing Starmer little bother, and a change of leadership at Unite pledged to expend less energy on Labour Party affairs, why not strike while the iron is hot? Risky, yes. But what he's banking on is the plodding conservatism of loyalist union bureaucrats and CLP delegates. This is Starmer's first proper conference as party leader, so the pressure's on not to embarrass the leader by seeing him defeated. Even if he's determined to make an arse of himself. It's this loyalism they're banking on, because as the BBC piece notes, little preparation has been done.

You don't need me to tell you the Labour leader is digging his own grave. He's faithfully followed the Labour right play book since he lied his way into office, but apart from that, and much to the surprise of many who would not describe themselves as leftwingers, Starmer has shown himself up as useless and spineless. Worse, the amateurishness and non-opposition is grating. If Starmer's changes are passed by conference and the member influence is carved out, the grumbles will get louder. The anonymous briefers will command more column inches, and a poor by-election result or an awful showing at next year's locals means curtains, paving the way for someone else.