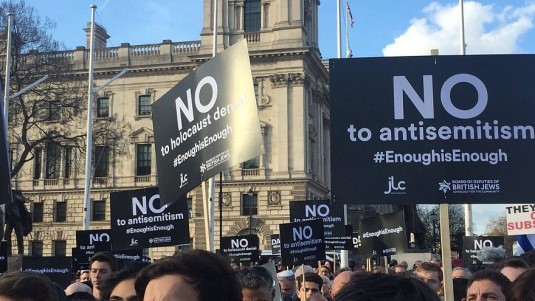 A guest post from @jake_srowland
If you've been living under a stone for the last few years you might have missed Labour's anti-semitism crisis. That Labour has a problem with this form of racism is undeniable, and there have been many members found to hold and share these repugnant views. Labour has never denied this is the case, and the party's educational leaflet for members, No Place For Antisemitism acknowledges a "number of Labour members hold antisemitic views and a much larger number don't recognise antisemitic stereotypes and conspiracy theories." Labour has taken a long time to make its position clear, but isn't action without serious thought beforehand dangerous? As Horkheimer made clear: "action for action's sake is in no way superior to thought for thought's sake, and is perhaps even inferior to it".
Can the problems Labour has with anti-semitism be called a crisis? If here we were to take a leaf out of Stanley Cohen's great book Folk Devils and Moral Panics, we learn 'crises' or 'panics' are not natural events. They are created when a "group of persons emerges to become defined as a threat to societal values and interests; its nature is presented in a stylized and stereotypical fashion by the mass media; the moral barricades are manned by editors, bishops, politicians and other right-thinking people". The hysterics most of the mass media have had since Corbyn became leader of the Labour Party must be argued to fit this bill, not just when it comes to the labelling of him and the movement that he fronts as anti-semitic, it also extends to the idea that Corbyn hates Britain or that his views run counter to "British values".
Though other parts of the establishment's four-year moral panic about Corbynism are easily dismissed as nonsense, the charges of anti-semitism cannot and should not be treated in this way. Doing so would further alienate the Jewish community from the left, which must be remembered fought side by side against Mosley's fascists at Cable Street and the East End. How then can Labour renew this alliance and win back parts of the Jewish community turned off by the current crisis? Can this be done by uncritically accepting the demands placed on Labour by the Board of Deputies? Probably not. Could a political party survive having an outside, 'independent' body decide disciplinary issues for it? The demand for investigations to be done on a much quicker basis must also be rejected as what good does it do to rush into a decision only to have it revoked at a later date, as has too often been the case. Anyone demanding that any Labour member under the suspicion of anti-semitism must be kicked out of the party is hysterical. Much better to educate them on how "anti-semitism is the poor man's socialism", rather than write them off, as we have recently seen. However, if members are unrepentant or refuse to take direction, then they should no longer be welcome. With firmer rules, a better understanding of what constitutes anti-semitism, and more people working in the complaints process, because the crisis hasn't gone away than clearly something more than an administrative response is needed.
If this then is not the route to a better relationship between Labour and the Jewish community, what is? Some say the answer is to stick with domestic politics, because leftist critiques of foreign policy and international affairs tends to focus disproportionately on Israel, laying it open to charges of obsession and inferences of anti-semitism. That said, how can Israel not be critiqued from the left? One reason for the focus on Israel are the hypocrisies that arise from its famous claim of being 'the only democracy in the Middle East'. When you consider how Palestinians live under a state of occupation, have their movements tightly policed, homes demolished, land stolen, the write to vote denied, and suffering punitive beatings, shootings, and have their protests raked with gunfire, you can understand why some see Israel as an apartheid state. As such plenty of Jews feel like the Jewish state does not represent their Jewishness, be it Jewdas, who describe themselves as an 'alternative diaspora', or the orthodox groups who struggle against the Israeli state from within, and the Israeli peace movement comprised of Jewish and Arab Israeli citizens. In Jewish communities outside of Israel you often find community leaders describing Jews who are critical of Israel as 'self-hating Jews'. For instance. In my view, these luminaries are often just as anti-semitic as those they rail against in the Labour Party because they demand Jews should believe certain things simply because of their Jewishness. They stereotype the Jew and dismiss the Judaism and Jewishness of those who do not fit and are not "acceptable". And in this case, the official policing of Jewishness means forgetting how Zionism has always included left wing ideas. Like most national movements, it has a right and a left and leftism played an important role in the founding of the Jewish state: the Kibbutz and the historic strength of Israel's Labour Party were hugely influential on the polity.
The only real option for the Labour Party is for it to keep doing what it is doing. The party must keep its messaging clear and to continue to remove from the movement those that hold anti-semitic views. But it must do so without falling into hysterics and internal warfare as many would like it to, especially its enemies in the Conservative Party, who have made no concerted effort comparable to Labour to tackle the Islamophobia or, for that matter, the anti-semitism of its members. Even if it takes a few years for the Jewish community to see that the Labour Party is not a threat, Labour must remain resolute in its efforts to communicate with the Jewish community what it is doing to put this issue to rest.